Typical System and Application
Such clients provide data settlement services in the medical industry. EOB forms help small and medium medical facilities check data on Explanation Of Benefits, and verify whether the medical costs paid by the health insurance is correct.
The system archives records of patient's relevant medical data and at the same time, imports all kinds of fees and insurance qualification information to the database for search purposes. In this way, the medical institutions save manual labor costs, insure all fees are properly collected and greatly enhance cash flow.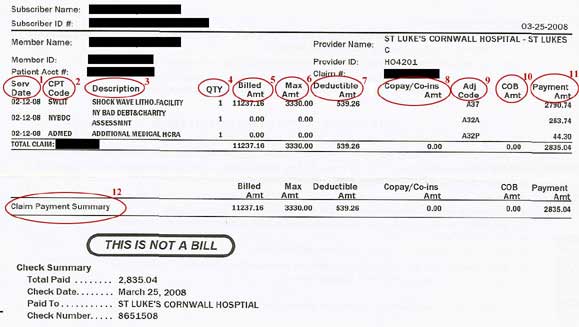 Free OCR Software Trial | Quote & Proposal | Free OCR Consulting Service
OCR Functions & Problems
Functions: OCR is responsible for the recognition of patients' information and medical costs on EOB forms.
Problems: EOB forms are variable and have always been a blocking point for electronic form recognition. Existing form SDKs often have difficulty achieving the client's demand of recognition accuracy or are often too complex and time consuming for operators to use. So the task that faced ExperVision was how to customize a solution matched with the client's workflow while meeting the highest of accuracy demands. In order to achieve the task we needed perform research according to real samples. The problems encountered are summarized as below:
High recognition rate requirement
Accurate fields location
Free OCR Software Trial | Quote & Proposal | Free OCR Consulting Service
Our Solution
After thoroughly analyzing the image sample set, we developed the following solution:
Drew up a template solution according to sample set and provide engine tuning service
Analyze the relationship logic of  the data to confirm and check amounts.
Free OCR Software Trial | Quote & Proposal | Free OCR Consulting Service