Those who provide legal services in the US, need to bill with invoices that intricately itemize the time spent and work completed. The legal industry generates large volumes of invoices sent to clients each month. The invoices include names of legal firm, client names, invoice number, invoice issue date, attorney service hours and cost list, attorney rate, and other expense such as fax, phone, and mail fee.
There exists professional third-party audit Companies who ensure the invoices are correct. They provide applicants (plaintiff & defendant, insurance companies, courts, etc) with third-party audit report to explain the reasonableness of the legal fees. Our client is such a service company, customers can save 20%-75% additional legal fees through their services.
To facilitate the audit, the client developed a Legal Bill Audit System (LBAS), helping customers to enter the main data (fees & costs) into the system for statistics and analysis to obtain higher audit efficiency and effectiveness.
Free OCR Software Trial | Quote & Proposal | Free OCR Consulting Service
OCR Functions & Problems
The client found us and hoped to recognize attorney fee and cost on bills through OCR and auto import into LBAS. However, through deeper communication, we found pure OCR technology and tools couldn't solve the problems, the problems we encountered were:
The invoices were free structured and clients had many types of forms. If purely using an OCR tool, design and development costs would be very high and couldn't assure system accuracy;
Integration with OCR wasn't considered during LBAS design, so it was difficult to integrate with OCR;
The important point is LBAS audit report module required high accuracy rate. The attorney name, hours, total attorney fees required; 100% accuracy and the description part required a minimum of 99% accuracy.
Based on the above reasons, we thought only BPO could solve the client's problem
Free OCR Software Trial | Quote & Proposal | Free OCR Consulting Service
Our Solution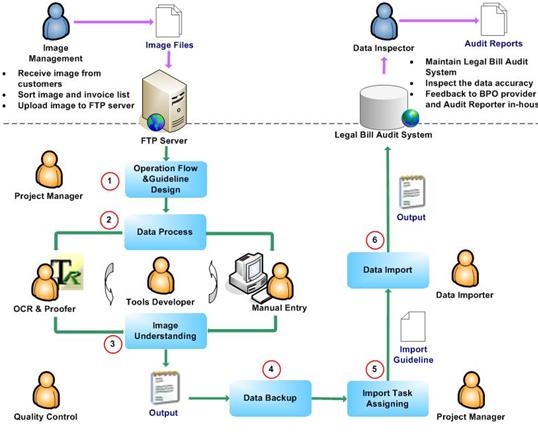 Operations Flow & Guideline Design: Tried and true BPO workflow.
Data Process: After the forms are recognized, operators would manually proof, manually enter data and made program comparison. Three work groups process three times, ensuring a 99.99% accuracy rate.
Image Understanding: Understood differentials of each batch of invoices and communicated with client in a timely manner.
Data Backup: FTP server made backup to intermediate product (Text) to ensure LBAS data security
Import Task Assigning: LBAS didn't allow users to import data simultaneously. So it was necessary to manage data entry work to avoid data error or system trouble.
Data Import: According to LBAS's demand, intermediate product text could be gradually imported to system preventing incorrect and duplicate importing.
Based on our analysis, our solution to the client's problems were through BPO services.
Free OCR Software Trial | Quote & Proposal | Free OCR Consulting Service