The Client is an Australian professional data entry and processing company that helps their customers convert paper documents to ASCII documents in various formats, and make use of the data information in enterprise applications and process automation to resolve various business problems.
The Client contracted the health insurance claim forms processing projects from the Health Insurance Committee (HIC). These claim forms, which are used by all Australian hospitals, clinics, medicine labs, pharmacies and other treatment and convalescence departments to declare to the HIC all services to the patients. HIC required The client to convert all types of claim forms to electronic forms daily, and input the data in a standard format for the HIC declaration analysis database. The HIC operators cannot pay the health insurance until analyzing and verifying the declared data compatibility and removing the possibly inaccurate data, which assures the payment is on time and avoids the loss of possible scams.
After setting up some simple software, The client mainly depended on manual input to achieve the HIC data processing. However, the HIC data service workload was large, required high precision and had a short time frame. The Client felt they could hardly meet these requirements within a reasonable budget. Therefore they began searching for a Forms Processing System (FPS) to process the HIC claim forms using OCR to achieve most of the data processing automation, enhancing the processing speed, assuring the accuracy and timeline and saving the data processing costs.
ExperVision® owns a global leading OCR technology and has developed FPS for many clients and cooperated with some data service companies to directly contract the data service business. The Client found ExperVision® through research and consigned it to develop the FPS for HIC claim forms.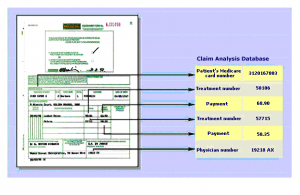 Fig. 1. HIC ClaimForms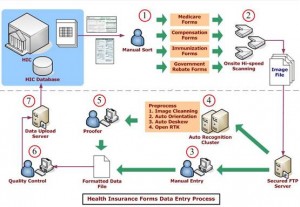 Fig. 2. HIC FPS
Challenge
It has been a major trouble for physicians to use paper-based medical records:
After they fill out personal data on paper form, patients frequentlycomplain that the paper-based medical records (MR) are often misplaced and they had to stop at too many lines during the visit.
Physicians and nurses spent a great amount of time writing patient charts, and a diagnosis was often missed in a paper record.
With transfer to a new hospital or a clinic, copyies of the patients paper chart neeeds to be sent and received along with the patient. During transfer, if these charts get misplaced  or lost, this creates a problem.
After a couple of weeks, the loboratory reports will be archived and doctors did not have access to all information. Further adding to the troubles, nurses and medical assistants began creating their own "ghost charts" so that they could have a record filed in a place they could not easily access.
Paper records are expensive to create, store and maintain.
Solution
ExperVision's Medical Info-System streamlines patient information management and enables physician to improve patient care, enhance productivity, eliminate paperwork and help the business gain rapid ROI. The system provides browser-based, easy-to-use, extremely intuitive access to medical practice data, including patient appointments information, demographic information, laboratory reports, transcribed documents, radiology reports and health summary. Worklist and Clinical Messaging are also included to help streamline communications between the clinicians and the supporting staff. Following are the main functions of this system:
Document Conversion: Covert paper records to digital formats, extract text information and import electronic records from various medical practices.
Management of Patient Info.: Patient appointment, basic information, billing summary, etc.
Physician Order Entry: Medications, labs, prescriptions, care plan, educational materials, etc.
Clinical Documentation: Assessment and Diagnosis Records.
Nursing Module: Patient Care Planning and Patient Care Delivery.
Report Generation: Various auto-reports for the manager to supervise hospital/clinic operations.
EMR Transfer: Integrated with or connected to medical insurance companies to transfer EMR for the claims to be processed conveniently and efficiently.
BPO Service: In addition to all the automatic functions provided by the software system, ExperVision also runs a BPOCenter located in China, which provides 7 days a week and 24 hours per day manual processing service through Internet to guarantee fast processing of MRs, system reliability and data security against any spiteful attack. For more information please call 1-800-READTYPE.
Benefits
Streamlined workflow, improved efficiency and better patient care,
Reduced risk of forged prescriptions and medication errors,
Automatic checking for proper dosage, drug interactions and allergies,
Dramatically reduced paper costs by time-consuming mailing and copying,
Coding compliance with state and federal government regulations.
Please contact our consultant to request the complete case study.
1) Payer Segment
Provide Cost Effective Solutions
ExperVision provides BPO solutions for claims processing and benefit administration. We reduce claims processing costs and streamline benefits administration operations to maximize productivity and profitability for healthcare TPAs, Independent Physician Associations (IPAs), hospitals, managed care networks and self-insured employers.
ExperVision Healthcare BPO performs data entry for all HCFA 1500, UB92 (HCFA 1450), ADA Dental, Rx and prescription claims using a dual validation method to ensure 99%+ accuracy. Typical turnaround times for claims adjudication average between 24 and 48 hours.
ExperVision performs re-pricing for clients in a variety of methods, including going directly to third party re-pricing systems, or through ANSI 837 transactions.
ExperVision claims examiners can log into client claims processing systems remotely using VPN, terminal services, or a variety of other remote protocols to perform claims adjudication directly on their system.
ExperVision can receive claims sent in HIPAA-compliant ANSI 837 format, and then we can convert and upload theclaims to clients in the EE importable format.
2) Administrative Services:
Medical Record Retrieval:
We store and manage patient records and other medical records. We receive these documents from different facilities as an electronic fax; then, we index and store them for future reference.
Augmenting this process is the customer help desk. The agents receive the requests from the physicians and their offices for the medical documents. The agents then establish the request authorization and help retrieve the data in minutes for the caller. The immensely as the authorization process has become very effective and patient care has improved substantially.
Medical Billing and AR Follow Up Services:
ExperVision is currently serving over 500 physicians. We work as the client's offshore team in doing the correct billing and providing the right AR follow-up. We follow and enhance client's systems and processes with our experience of the industry. Our clients appreciate us bringing value to their systems and processes. As a result we save healthcare service providers and healthcare management companies valuable practice time and resources. Moreover we, help them focus on building core competencies.
We do Electronic and Paper Claim submission, depending on the doctor's agreement with the Insurance Company.
Patient Information
Insurance Information
Charge Entry
Send an Exception Report
B- Payment Posting:
Includes receiving the EOB, AR Analyses, follow up and reporting
Patient Payment Posting
EOB Posting
C- Collections:
Collections of aged claims (120 days and above) and AR analysis
Denial Management
Follow-up
Please contact our consultant to request the complete case study.
It is a common and daily operational task to accept and process checks as a form of payment in any company, especially in retail, utility, online and offline merchant industries, etc., which we call merchants collectively. Typical check processing consists of many tedious, costly and error prone steps. These include converting paper-based checks into electronic transactions, processing transactions through the ACH network or Check 21 image exchange network, automating returned check re-presentment, generating real-time reports and supporting proactive risk management.
ExperVision® has been helping various merchants meet their challenges in check processing through our innovative solution.
ExperVision® 's check processing system helps a company complete the process from check image capture, recognition, storing, proofing, passing to various payment gateways for transaction, to archiving for analysis and other purposes. Following is a description of how the check processing system works with the Payment Processor, ACH Network and Check 21 Image Exchange Network all together to help the merchant collect payments.
Please contact our consultant to request the complete case study.
A company receives large amount of invoices from various third parties including vendors, service providers, contract engineering providers, etc. These invoices need timely processing and many departments are involved in the verification and approval process. Statistics show that, 96% of the invoices are on paper and have to be processed manually, which makes the cost as high as $10.15 per invoice. With manual processing, mistakes such as incorrect calculation, duplicate payments, inability to transfer to correct department and even the loss of some invoices can occur.
ExperVision® 's invoice and receipt processing system completes the process from invoice scanning, recognition, storing, passing to various departments for verification and approval, to archiving for analysis and other purposes. The invoice recognition module employs ExperVision® 's world champion OCR to process data such as vendor information, product items and prices, account number, amount, date, etc.
Please contact our consultant to request the complete case study.
Although electronic resumes have been more and more popular since the late 90s, massive paper materials, e.g. fax, letters and post, are still used and mixed with electronic ones in both job application and human resource (HR) management. To guarantee not missing any qualified candidate, it takes a significant amount of time and effort to include the information on paper in the human resource software system.
ExperVision® 's Resume Processing Solution (RPS) is a suite of intelligent and enterprise level resume capturing & processing tools, which can automatically process resumes from any e-mail & attachment, job board, corporate web site, fax and paper, enabling the HR department to efficiently attract and hire qualified job applicants. The Resume Recognition module in the system employs ExperVision® 's world champion OCR to process data such as contact, location, skills summary, education history, work experience, etc.
Please contact our consultant to request the complete case study.
In many industries, the company sends their staff outside of the office to provide complicated services, including on-site measurement, customized design, material preparation, on-site installation, maintenance and/or other activities. The traditional way to manage out-of-office activities is to use paper work-orders and worksheets, which leads to many problems such as difficult to track the workflow information, misreading information on paper, and unable to quickly search and index wanted information on worksheets. These problems generally degrade workflow efficiency, waste resources and destroy customer satisfaction.
ExperVision® 's paper based workflow management system provides whole workflow management by including the traditional paper work-order and worksheet in the control loop, while allowing the staff to work exactly the way they were working before.
Please contact our consultant to request the complete case study.